SENDZIMIR JAPAN

Only one company in Japan who officially succeeds Dr. Sendzimir's manufacturing of Sendzimir mill

The Sendzimir mill was invented by Dr. Tadeusz Sendzimir and is an excellent rolling mill that was once said to be one of the 20 major inventions in the United States. Sendzimir Japan, Ltd. (abbreviated as "SEJAL") is company in charge of the engineering, delivery and commissioning of Sendzimir mills and was established in 1962 as a joint venture between T. Sendzimir Inc., USA, Sojitz Corporation (formerly Iwai Sangyo Co., Ltd.) and Hitachi, Ltd..

Sendzimir mills are famous for their ability to realize efficient rolling result by the high rigid mill housing with small diameter work rolls. The functions of AS-U and lateral shifting of intermediate roll result in the achievement of accurate shape control.

SEJAL supply a number of rolling mills to the field of cold rolling such as stainless steel, special steel, copper and copper alloys, silicon steel, etc. and the Sendzimir mills supplied by SEJAL have been in operation in a number of countries in the world.
Dr. T. Sendzimir(1894-1989)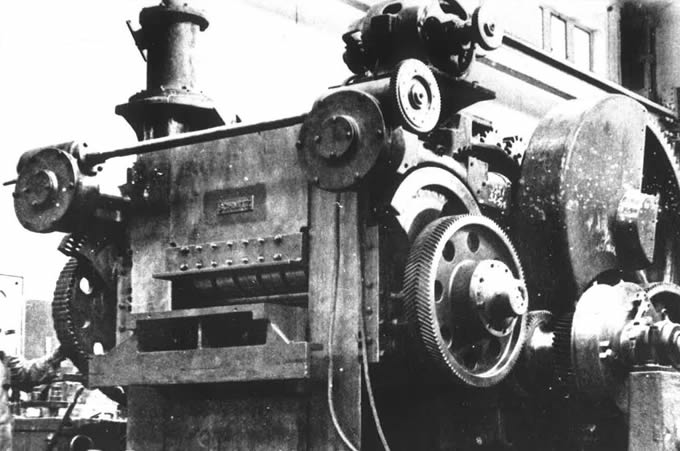 1st ZRM in Poland (1931)
HISTORY

History of Sendzimir Japan, Ltd.
April 1955
Iwai Sangyo (now known as Sojitz) / Hitachi, Ltd. / Nippon Teppan (former Nisshin Steel, now Nippon Steel Stainless Steel) visited T. Sendzimir,Inc., USA.
1956
T. Sendzimir,Inc., and Iwai Sangyo signed a technology licensing agreement (Sojitz still licensee)

June 1958 : Japan's first domestic 20 high mill started operation at Nanyo Works of Nippon Teppan.

June 1958
The first Sendzimir mill in Japan started operation (formerly Nippon Teppan Nanyo Works) and received orders for Sendzimir mills from many customers.

October 1962
Sendzimir Japan, Ltd. was established in 1962 as a joint venture between Iwai Sangyo Corporation, T. Sendzimir Inc., USA and Hitachi, Ltd.
October 1965
Established a technical tie-up with Koyo Seiko Co., Ltd. (now known as JTEKT Corporation) to produce backing bearing assemblies in Japan
November
1974
Completed construction of the Sendzimir Japan building.


October 2012
Held 50th anniversary celebration.

June 2021
Cumulative supply Number of Sendzimir 20 high mills 111 stands, Z-High mills 31 stands, total of 142 stands
SOLUTION

The technology of Sendzimir mills is in such a place.